To be rescheduled
Anukalana® Yoga & Meditation Retreat in the spectacular region of Marche, Italy – June 20-27 , 2020
What To Expect
One week of twice-a-day yoga practice, meditation and sound healing with the opportunity to explore in depth both the physical and spiritual practice of Anukalana®. We will:
– investigate the Shakti (active/dynamic) and Shiva (slower/quieter/inactive) facets of Anukalana®
– learn how to use pranayama (breath) to create space in the body during the practice
– explore how movement can be used to soften the body and release tensions
Where
In a peaceful setting surrounded by gentle hills, pristine medieval towns, not far from the Sibylline Mountains and the Adriatic Sea, the retreat will be hosted at the resort le Case.
A picturesque medieval hamlet, le Case is nestled in the hills and fields of the Marche countryside at the end of the ridge that slopes away gently from the town of Macerata.
The resort le Case includes Organic Farm, Swimming Pool and Spa, Restaurant and Gourmet Pizza and Restaurant L'Enoteca.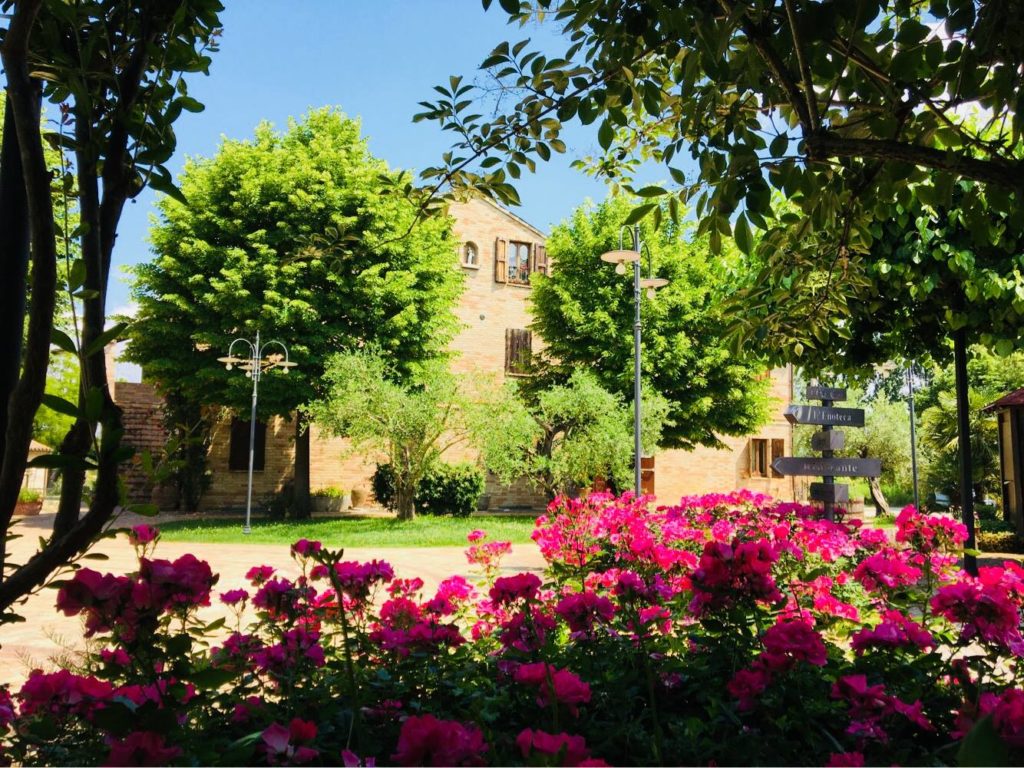 What Is Included
Seven night – stay at Le Case Resort (single and double occupancy with king bed available)
Breakfast and dinner (vegetarian & vegan options available)
Morning meditation
Two daily yoga practices
Sound healing ceremony
Use of the resort facilities
Excursions in the surroundings are optional. They will be agreed with the participants and can include a combination of the following tours:
Main historical towns in the area
Romanic Abbeys
Medieval Castles
Archeological Sites and more
Space is limited, so book early and take this unique opportunity to explore and deepen your yoga practice!
Cost
Shared accommodation (king bed) $1,750.00 if full balance paid by April 15th, otherwise $1,950.00 payable by May 15th
Single occupancy $1,950.00 if full balance paid by April 15th, otherwise $2,150.00 payable by May 15th
A deposit of $500 is required at the time of booking. The deposit is refundable if cancellation is before April 30th.
How to Get There
The closest airport is Ancona (AOI) about 30 miles from Le Case. Lufthansa has connecting flights to Ancona from Munich. Other low-cost airlines fly to Ancona from London and Brussels. Bologna (BLQ) and Rome (FCO) airports are both about 165 miles away. However, Bologna is perhaps more convenient if traveling by train as it offers better connections to Macerata or Civitanova Marche (25 miles away). Please do contact me if you need help with planning your trip.
Other Travel Notes:
Plan on arriving on Saturday, June 20th during the day at Le Case, check-in time is 2:30pm. We will have our welcome/opening circle and light practice to recover from the travels on Saturday evening at 5:30pm.
We will hold our final practice and closing circle in the evening on Friday, June 26th. You can plan on leaving the following day. Check-out time is 10:30am.
Yoga mats, meditation cushions and blankets will be provided. Bring any additional props you may need for your practice.
Your passport must have at least six months validity remaining beyond your planned date of departure from the Schengen area
No visa required if planning to stay less than 90 days
No vaccinations required
Currency euro €, exchange rate approx. 0.91 but it can fluctuate so check periodically
… and yet finally, stranded on the shore of the Bosporus, they (Candide and Cunegonde) settle down to cultivate their garden, working hard but also savoring candied lemons and pistachios. They find happiness precisely when they stop looking for it. When you pursue happiness, it will flee from you, but if you are lucky, you can stumble upon it when you least expect it. David Wootton, The Impossible Dream, in Lapham's Quarterly, Summer 2019